Calling all Princeton-area architecture fans: Bob Geddes will be giving a lecture, tour, and book signing of Fit: An Architect's Manifesto, at the Institute for Advanced Study in Princeton, NJ, on Saturday, April 5th, from 10:00 AM to 1:30 PM (EDT), sponsored by DOCOMOMO Philadelphia and DOCOMOMO NY/Tri-State.
Tickets and full event details are available via Eventbrite ($20 for DOCOMOMO members / $25 for non-members / FREE for IAS faculty, scholars, and staff).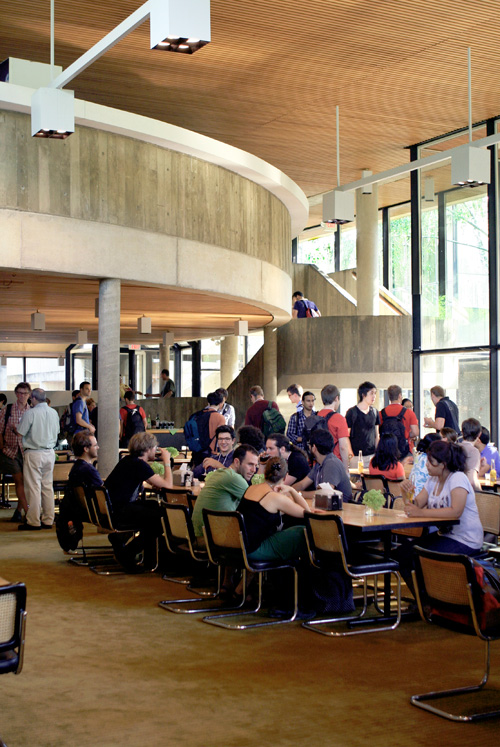 Make it New, Make it Fit
The architecture of Geddes, Brecher, Qualls, and Cunningham (GBQC) has been largely overlooked in recent years—despite a remarkable and influential body of work beginning with their runner-up submission for the Sydney Opera House (1956). As significant contributors (along with Louis Kahn) to the "Philadelphia School," GBQC's efforts challenged modernist conceptions of space, functional relationships, technology, and—with an urbanist's eye—the reality of change over time.
To explore the thinking behind the work, founding partner Robert Geddes, FAIA, will speak about his recent publication, Fit: An Architect's Manifesto. In addition, Geddes will guide a tour through the venue for his talk, the Institute of Advanced Study's Simmons Hall—a GBQC masterwork of 1971. Geddes will also participate in an informal discussion with participants during lunch at the IAS Cafeteria.
Schedule
10:00-10:30am      Dilworth Room. Event check in. Coffee served.
10:30-11:15am        Make it New, Make it Fit Lecture by Bob Geddes
11:15-11:50am        Building Tour
11:50-12:10pm       Lunch at cafeteria where discussion continues
12:10-1:00pm         Lunch and discussion
1:00-1:30pm           Wrap up and book signing.
Parking
LOT 'B' enter through West Building. When you arrive at the site, please bring a copy of your tickets, either printed or displayed on your mobile phone.
About the speaker
Robert Geddes is dean emeritus of the Princeton School of Architecture and founding partner of GBQC—recipient of the AIA's Firm of the Year Award in 1979. Educated under Walter Gropius at Harvard's Graduate School of Design, Geddes returned to his native Philadelphia in 1950 where he began his work as an educator at the University of Pennsylvania.